The complete Agenda/Programme of the Conference is available here.
KEYNOTE SPEAKERS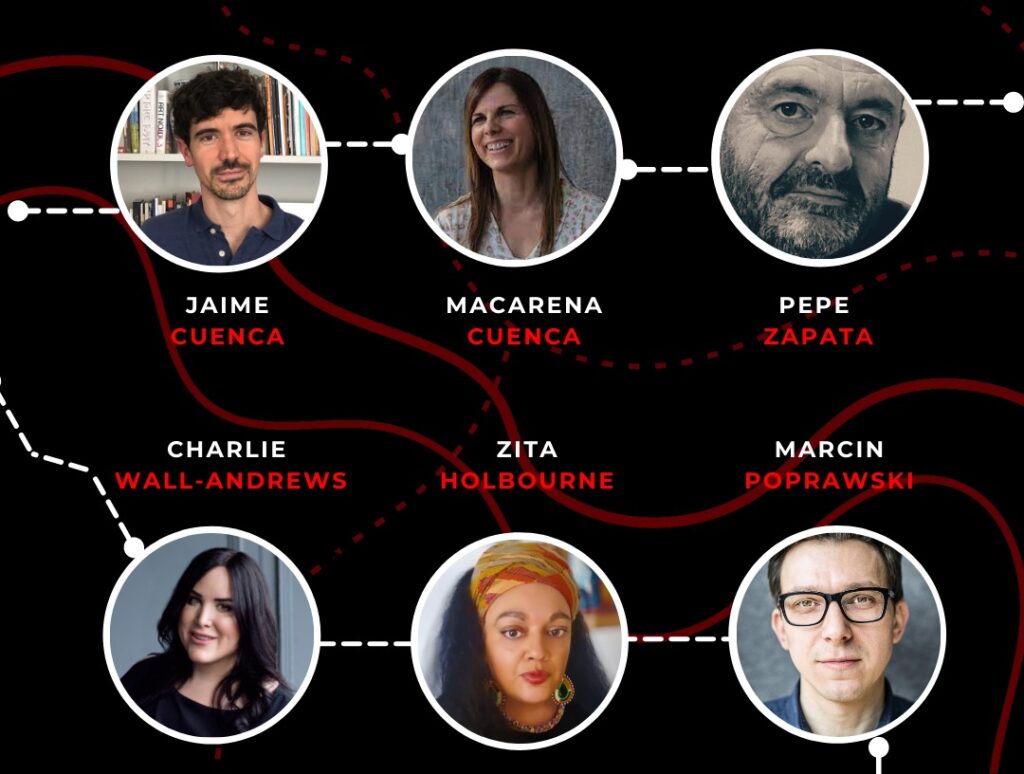 Jaime Cuenca graduated in Philosophy and earned his PhD in Human and Social Sciences at the University of Deusto in Bilbao. He is currently researcher at the Institute of Leisure Studies of the University of Deusto, where he teaches courses on Philosophy of Art.
Macarena Cuenca has a PhD in Leisure and Human Development and is a professor of strategy and business organization at Deusto Business School. Her main line of research is related to the development of cultural audiences, which was the subject of her PhD thesis.
Charlie Wall-Andrews (MBA, MA, BA, CCIP) is a Trudeau Scholar, music industry entrepreneur, and faculty member at Northeastern University and University of Toronto. In her role at SOCAN Foundation, she established many programs such as the Creative Entrepreneur Incubator and Equity X Production Development Program which prepares artists to turn their passion and talent into a sustainable career.
Zita Holbourne is an author and multi-disciplinary artist -writer, poet, visual artist, curator and vocalist- and an award-winning human rights campaigner, community and trade union activist, educator and public speaker. She is one of 17 British women, featured in the award-winning book: 'Here We Stand, Women Changing the World' and a contributor to a range of books and anthologies including 'New Daughters of Africa'.
Marcin Poprawski is a researcher & senior lecturer at HUMAK University of Applied Sciences (Finland) and the AMU University of Poznan (Poland) in the Institute of Cultural Studies of the Faculty of Anthropology and Cultural Studies. He is coordinating COSM (Culture, Organisation and Sustainability Management, www.cosm.humak.fi) a set of courses offered by Humak University to Finnish and international MA students of Cultural Management and related studies.
Pepe Zapata. He is currently Director of TRESC, the largest and most active Cultural Community of cultural audiences in Catalonia, and Curator of the First International Congress of Performing Arts Spectators to celebrate in Barcelona in May 2022. He has held communication, marketing and public management positions in various cultural institutions such as Grupo Focus, Mercat de les Flors, Fundació Alícia and Pompeu Fabra University.
PRESENTERS, PANELLISTS & TRAINERS
We have chosen different students and young professionals who applied to our call for proposals to present and discuss their research and ideas in (poster) presentations, pannels and workshops.
THEME 1: WAYS TO HEAR MORE VOICES: VISIBILITY, DIVERSITY, INCLUSION, UNDERREPRESENTATION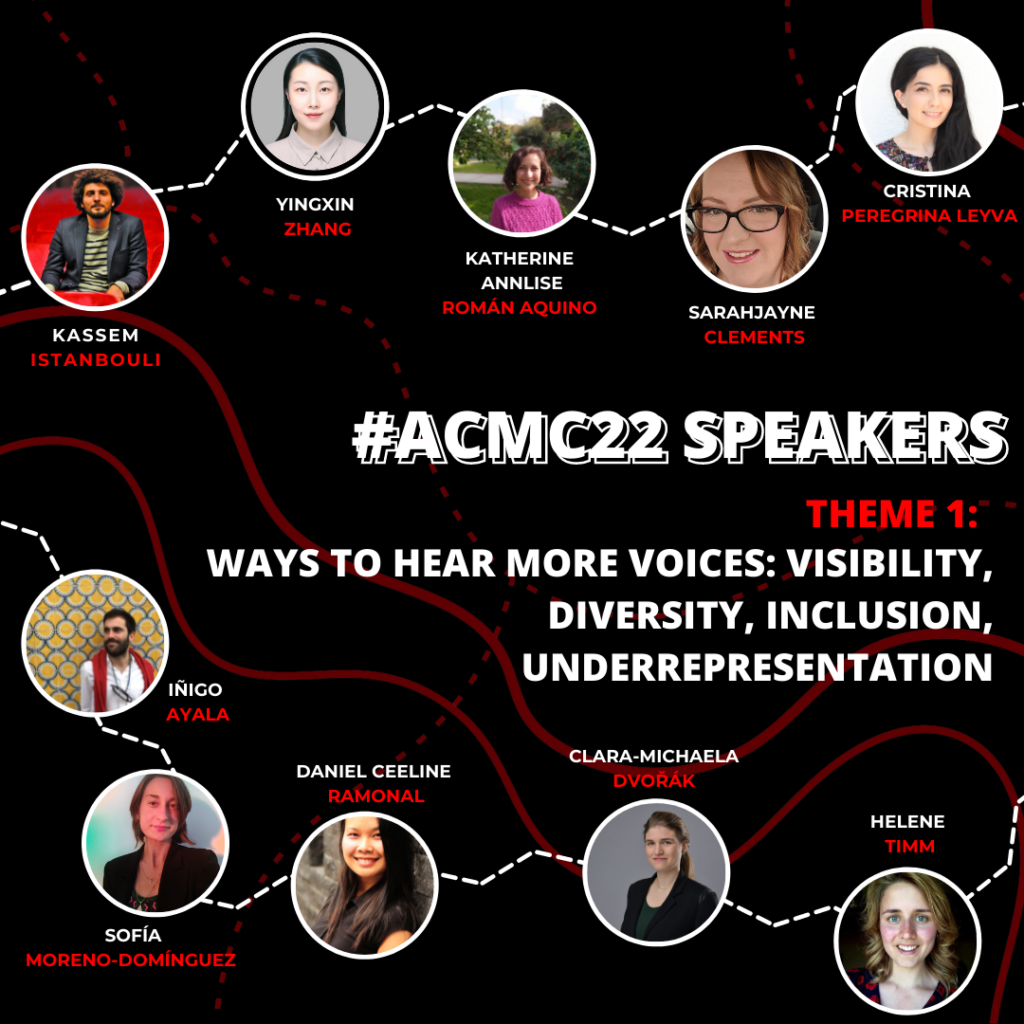 Speakers
Kassem Istanbouli. The founder of the Lebanese National Theatre, actor and director, Kassem Istanbouli, received the Intercultural Achievement Award (IAA ) granted by the Federal Ministry for European and International Affairs, through the Arab Culture and Arts Network (ACAN) project, which won the award out of 1,300 competing projects from 87 countries.
​​Sarahjayne Clements. ​​She works in Wales as an Advisory Services Archaeologist. She is also a Doctoral Candidate at the University of Hertfordshire and her thesis is about disability inclusion in archaeology. Sarahjayne is on the committee of the Enabled Archaeology Foundation as well as the CIfA Equality, Diversity and Inclusion committee. She is also a member of the Advisory Council for the Chartered Institute of Archaeology.
Cristina Peregrina Leyva is a cultural manager and cultural policy consultant. She holds a bachelor in Cultural Management by the Western Institute of Technology and Higher Education (Mexico) and a Masters in Arts, Policy and Cultural Entrepreneurship by the University of Groningen (Netherlands). She has worked as a project manager and assisting in research in organizations based in Mexico and abroad.
Iñigo Ayala is researching cultural audiences in general and museum visitors in particular. He is a PhD candidate on the programme on Leisure, Culture and Communication for Human Development, University of Deusto. Iñigo has a Master's degree in Leisure Project Management, University of Deusto and Bachelor's degree in Humanities and Art History, University of Salamanca. His work on the PUBLICUM "Audiences undergoing transformation. New types of viewer experience and their interaction with museum management" project, which is related to preparation of his doctoral dissertation.
Sofía Moreno Domínguez. She is a visual artist researching topics about territory and cultural identities. Recently, she has been producing works of art about digital ethnographies and new figurative paiting. Sofía is currently PhD Candidate of Leisure, Culture and Communication for Human Development Programme (University of Deusto, Bilbao). She is also Co-founder a Cultura con Públicos Association.
Daniel Ceeline Ramonal is a dance anthropologist, artist, and author. She completed a Bachelor of Arts in Speech Communication degree from the University of the Philippines and an International Masters in Dance Knowledge, Practice, and Heritage under the EMJMD Choreomundus program, a consortium between four universities in Europe, specifically Université Clermont Auvergne, Roehampton University, Norwegian University of Science and Technology, and the University of Szeged.
Panellists
Katherine Román Aquino is a Peruvian MA student in Arts and Cultural Management at Leuphana University in Lüneburg, Germany. Her background is in Andean archaeology. She has a certification in Management of Development Projects and a Diploma in Museums Management by TyPA Foundation in Buenos Aires, Argentina. She has participated as a speaker in conferences such as The Nordic Latin Americanist Network in Oslo, Norway and Museo Reimaginado in Medellin, Colombia.
Clara-Michaela Dvořák is a professional on the topic of cultural institutions and diversification. During 2017 and 2018 she worked at the Communications Department of the "Zukunftsakademie" in North Rhine-Westphalia, advocating for increased diversity in theatres, visual and performing arts, and their like across the state. Her research in the years following engaged with the burgeoning field of digitality and its impact on society, before she became a theatrical stage manager in East Germany. Her position at "360° – Fund for New City Cultures," a programme from the German Federal Cultural Foundation, marks a return to the question of diversification in our cultural landscape. She has served as programme assistant for 360° since 2020.
Yingxin Zhang. Trained as an architect and urban deisgner in China and the United States, she has obtained her Master of Science in Design degree at the University of Pennsylvania in 2020. Equipped with previous experience in advanced architectural and urban design, her research interests concentrate on architecture history and heritage management.
Trainers & Moderators
Helene Timm is an alumni of the Cultural Leadership Research Master, where she researched cultural leadership as a social process as well as community building through arts and culture in the rural areas. After her studies she followed love to Oslo, Norway. Here she works as a Content Creator and the Project Manager of a Pop-up Space for the startup Paguro. She enjoys reflecting on the future of work, compassionate leadership, community development and impact tech.
Julia Dekeukeleire is a Master student in Culture Management, Vice president at Unifac vzw, and an alumnus trainee at ENCATC. She will be moderating 2 of the panels of ACMC#22
Ana Bascones Ursua has a Master's Degree in Leisure Management: Culture, Tourism, Sport and Recreation and expert in audience development. She helps to coordinate the Strategic Plan for Culture of Navarre 2017-2023, the Cultural Observatory of Navarre and the edition of various publications of the Government of Navarre. She is the co-funder and content creator of the association Cultura con Públicos and together with her colleague Rafael Molina will be presenting the association and introducing the keynote speech of Pepe Zapata.
THEME 2: WAYS TO BE ADAPTED AND INTEGRATED IN THE FIELD: SUSTAINABILITY, ENTREPRENEURSHIP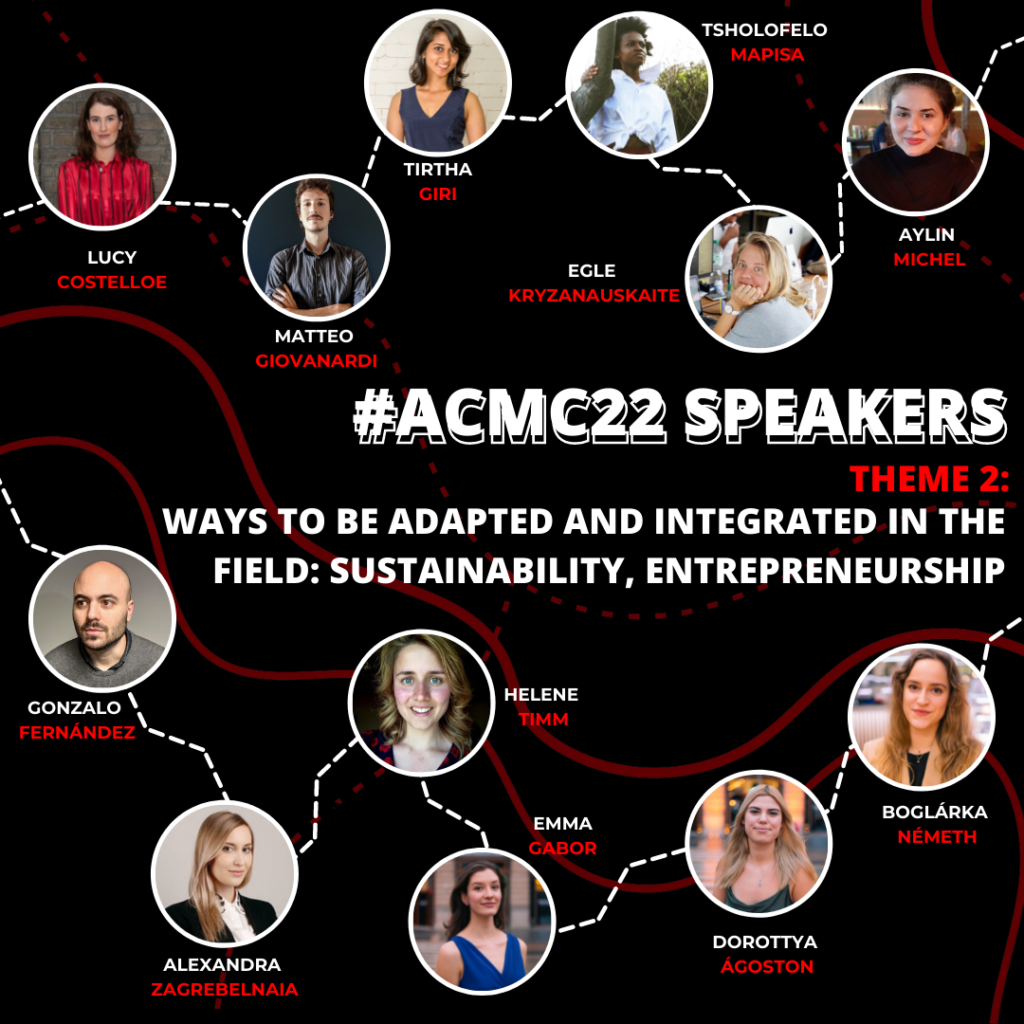 Speakers
Lucy Costelloe is Head of Marketing for Ticketsolve, box office partner for more than 330 theatres, festivals, and arts, culture and heritage organisations in Ireland and the UK. With a MA in Arts Management and Cultural Policy from University College Dublin, she is also a passionate Traditional Irish Fiddle Player. As director on the board for Ulster Orchestra, Lucy contributes to the Digital and Marketing committees. Conducting her PhD at the Kemmy Business School, University of Limerick her study looks at addressing business model innovation and transformative change across the arts sector.
Tirtha Giri is a dancer, teacher, and art manager, based in Mumbai, India. With a Bachelor's in Fine Arts majoring in Bharatanatyam (an Indian classical dance) and a Master's in International Art Management (from SMU Dallas, HEC Montreal, and SDA Bocconi), she is currently working towards her vision of creating an infrastructure that supports and scales the professional development of classical art and artists in India. As a performer, Tirtha possesses over two decades of national and international performance experience and a decade of teaching experience.
Alexandra Zagrebelnaia is a PhD candidate and DIRS-COFUND scholarship holder. She carries out her doctoral research at the Institute of Leisure Studies of University of Deusto, where she had also obtained her Master's degree in Euroculture as a BMU-MID Erasmus Mundus grantee in 2015. As a part of the research team, Alexandra is involved in development of the European Projects CYCLE, EUREKA and UNIC. Her main research focus is on the art events, exhibitions and audience development. For her PhD Thesis she is carrying out a research on the socially oriented audience development strategies for the Art Fairs in Spain and Italy.
Gonzalo Fernández is a PhD in Cultural and Heritage Management by Barcelona University. He is graduated in Tourism Management by the University of Oviedo and Master in Cultural Management by the University of Barcelona. In 2017, his PhD Thesis project was awarded by the SGAE (General Society of Authors and Editors) Foundation Researching Prizes. His research areas focus mainly on local cultural policies, cultural democracy and cultural commons. He juggles his career as a cultural policies researcher with his work as a cultural management.
Tsholofelo Mapisa. She studied music at the University of KwaZulu Natal, where she obtained a BA Music degree, BA Hons Music and is currently enrolled for a Master of Arts in popular music. Her sound is largely influenced by the alternative/soul, jazz, indie/folk music soundscape. Among her most notable performances are: KZNSA Gallery where she opened for SAMA (South African Music Awards) nominated all female jazz band, Heels Over Head, The Bat Center, UKZN's Jazz Center,"Billionaires Under Construction conference" at the Heartfelt Arena in Pretoria for a crowd of over 3,000.
Panellists
Emma Gabor. Emma is a recent graduate from University College London with a BA in Art History, specializing in European Early Modern Visual Culture. During the last three years, Emma was an avid Summer Student at the 'Sapienza Universitá di Roma' and the Central European University, where she read History, Archaeology and the Arts. Earlier this year, she co-founded the Journal d'Ambroisie, an initiative closely tied to the Salon de la Sagesse: as her biggest endeavor yet, the Salon is the space wherein she hopes to unite the most brilliant youth of her generation. In her free time, Emma loves to jog, paint and write
Boglárka Zita Németh. Boglárka has graduated in 2021 from University College London (UCL) where she studied BA Language and Culture with a focus on French, Italian and Marketing. As part of her studies, she successfully got selected to attend the summer school of the Chinese University of Hong Kong where she further broadened her knowledge in marketing management, but also got the opportunity to learn about the fundamentals of Chinese medicine. In her free time, she is an enthusiastic dancer, loves to listen to music and spend time in nature. As the Vice President of the Salon de la Sagesse, she truly believes that our generation will be the change makers of our future.
Dorottya Ágoston. Dorottya graduated from University College London in Summer 2021 with a Bachelor of Arts in History, specialising in Women's History and the History of Ideas. Currently she is completing her Postgraduate degree in International Communications at Universitat Pompeu Fabra in Barcelona. As an expression of her passion for writing and publishing, earlier this year, she co-founded the Journal d'Ambroisie and joined the Journal's editorial team as Editor-in-Chief.
Egle Kryzanauskaite is a human being, (grand)daughter, friend, flatmate, dreamer and happens to be a project officer at MitOst, working with international cultural collaboration programme for cultural managers in the MENA region – Tandem 360°. Egle has an educational background in political science and arts management. She is an alumni of the University of Groningen, and has also helped to organize ACMC 2020.
Aylin Michel is an alumni of the Research Master Cultural Leadership at the University of Groningen, where she focused on international cultural cooperations and cultural networks. She holds a Bachelor's degree in Cultural Studies and Aesthetic Practice from the University of Hildesheim, where she could deepen her focus in the Bachelor Plus Study Programme Cultural Policy in an International Comparison studying at the İstanbul Bilgi Üniversitesi.
Matteo Giovanardi is a young cultural project manager with a strong focus on festivals, cultural centres and audience development. He graduated from University of Bologna's Cultural Management and Performing Arts Entrepreneurship master's degrees, and since 6 years has been involved in the development of new projects and communities for festivals and centres in the Emilia-Romagna region.
THEME 3. WAYS TO ADDRESS STRINGENT CURRENT CHALLENGES: ACCESSIBILITY, DIGITALIZATION, MENTAL HEALTH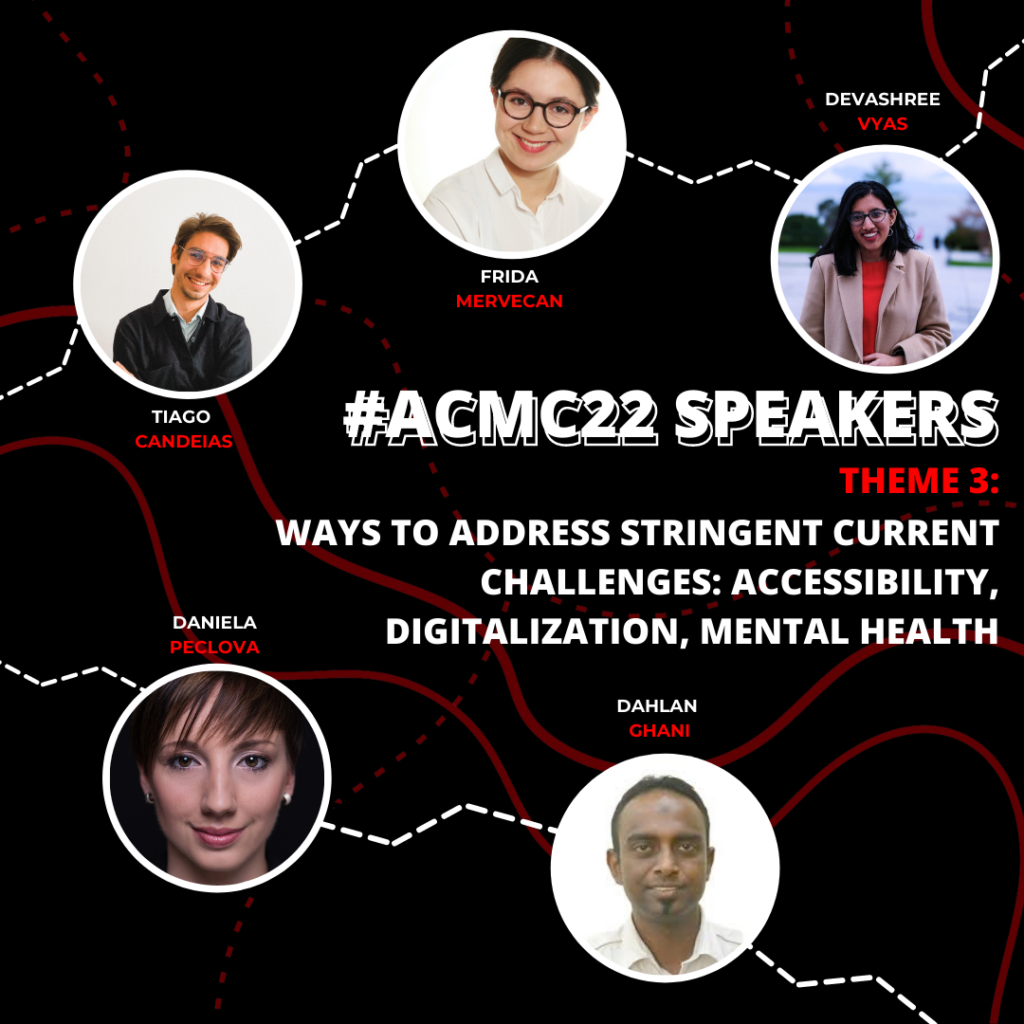 Speakers
Frida Mervecan. During her bachelor's degree in Cultural Studies at the Leuphana University of Lueneburg, Frida studied theories from a broad range of subjects within the humanities and focused on general questions of cultural organisation, especially in the arts and visual culture and the art market. Since she wrote her bachelor's thesis on Foucault's ideas of power and knowledge linked to forms of curation of art and ethnological objects, she is very interested in questions of decolonial curatorial practises. Frida followed her interest in cultural organisation, connected to urban studies, audience development, and media technologies, during her master's course in Cultural Studies at Goldsmiths, University of London from where she graduated in September 2021.
Daniela Peclova. Daniela Peclová is an Alumni of Janáček Academy of Performing Arts, Faculty of Music in Music production degree programme. She is working as a marketing and PR manager in the arts with experience from IT and manufacturing company and is also a Ph.D. student of Music production.
Devashree Vyas is currently a Master's student and research assistant at the BTU Cottbus-Senftenberg, with the MA World Heritage Studies programme. After graduating in architecture, she initially worked on conservation projects, and then, on the larger systemic framework of heritage in Mumbai. Through her role as Programme Coordinator at a not-for-profit, NAGAR, she had the chance to advocate for better legislative protection and active projects in built and natural heritage as well as public open spaces in Mumbai. As a Student Assistant, she is working on a Study Project called 'Writing Heritage' and a course module on Tourism.
Panellists
Tiago Candeias. Tiago in the project Manager at Faro 2027 [European Capital of Culture Candidacy Team] for the heritage education project MI.MOMO.FARO – Minecraft and the Modernist Architecture in Faro and the Faro Convention International Conference. Also a R-EU-FTOP Academy Nomad. He has been one of the participants in the ILUCIDARE Summer School – Heritage and Innovation: Central Europe and Beyond [funded by the European Union's Horizon 2020 research and innovation programme], held in Kraków-Krosno (Poland) in July 2021.
Dahlan Ghani. Associate Professor Dr Dahlan Abdul Ghani is the Head of Section for Animation at Universiti Kuala Lumpur (UniKL) Malaysian Institute Of Information Technology (MIIT) City Campus. With 20 years experience in teaching Multimedia & Animation subjects, Dr Dahlan has being involved in many research and innovation field such as Multimedia, Game Design, Immersive Application (Augmented Reality & Virtual Reality, Comic & Animation Studies, Short Film (Videography), Creative Advertising and many more.
PERFORMERS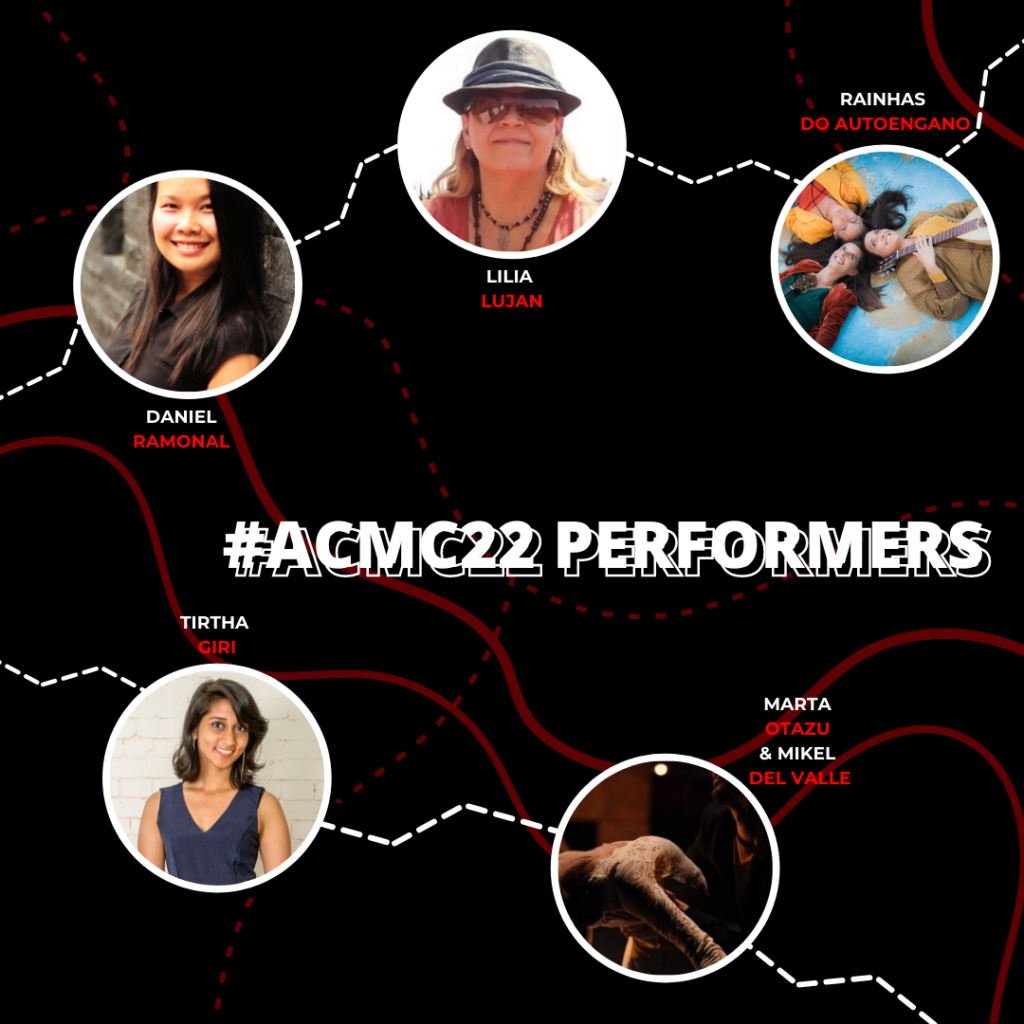 Marta Otazu. As a dance and teacher, I have worked with some of the most important choreographers in Spain, like Joaquín Cortés, Javier Latorre and Carlos Rodriguez, among others. I graduated in Spanish Dance Pedagogy at CSDMA where I received the Best Final Project Award. I also have a Masters in Directing Cultural Projects in which I was awarded the prize for the best project of the year, La Figuranta: a company that aims to establish dance as one the most important components of the cultural sector.
Rainhas Do AutoEngano. The Rainhas do AutoEngano are the Portuguese Madalena Palmeirim and the Brazilians living in Lisbon Zoe Dorey and Natalia Green, the three are singers and multi-instrumentalists, already with long careers. In February 2020, Zoe invited for a dinner party Madalena and Natalia Green, an Italian-Brazilian singer-songwriter recently arrived in Lisbon. Alongside "Eu Jurei", was also born "Quarentena", "Gota" and "Não Falta Nada", the 4 first themes were all released in 2021. The Rainhas do AutoEngano do original songs mainly in Portuguese, occasionally in other languages like French. The voices are wrapped up by the cavaquinho, the guitar, the trumpet in a dance between Pop, Bossa Nova, MPB, Folk. The Rainhas do AutoEngano are the result of an improbable encounter. In February 2021 they released first single "Eu Jurei" with a videoclip directed by Joana Linda. In April, performed in Cape Verde. During the summer, they toured around Portugal in several summer stages and theatres.
Lilia Lujan. Self-taught and multidisciplinary Mexican artist, she started in the plastic arts full time since 1995. He has explored and experimented with countless techniques, materials and supports, specializing essentially in painting, alternative sculpture, murals, thematic series, graphics and illustration. In addition to giving workshops and collaborating in various social projects with vulnerable groups. 25 directed thematic murals and more than 400 national and international exhibitions.
Tirtha Giri is a dancer, teacher, and art manager, based in Mumbai, India. With a Bachelor's in Fine Arts majoring in Bharatanatyam (an Indian classical dance) and a Master's in International Art Management (from SMU Dallas, HEC Montreal, and SDA Bocconi), she is currently working towards her vision of creating an infrastructure that supports and scales the professional development of classical art and artists in India. As a performer, Tirtha possesses over two decades of national and international performance experience and a decade of teaching experience.